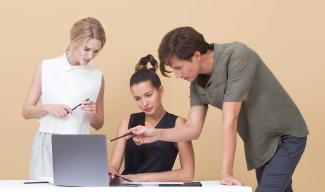 Why Financial Advisors Are Still Important
With the rise in popularity of financial planning robo-advisors, many experts predicted the beginning of the end for financial advisors. But as many investors are starting to see, there are distinct advantages to speaking with a live person when determining just how you should invest your money.
While robo-advisors can be a good solution for those with limited funds who want to get their feet wet in the investment arena, the problem is the lack of a personal relationship can prove to be detrimental.
There are other reasons why using a financial advisor is a good idea. Here are a few of them:
You really want a personal touch, which is difficult to obtain when using a robo-advisor. If you want to have someone you can call when the market drops, or an educated opinion on the next hot stock, having a financial advisor is key. A financial advisor can be particularly important when just starting to invest, as they can help you identify your goals, look at the near and distant future, and devise a way to get you where you want to be financially.
You want to be involved in the investment process. Robo-advisors tend to be more of a one-size-fits-all solution, which may be perfect for you at this point. However, when you become more knowledgeable about the market and what investments may work better for you, having a financial advisor to assist you can make a huge difference.
Knowledge. Financial advisors spend their time watching the market, doing research, and keeping track of trends. If you're a doctor, you wouldn't send your sick child to a plumber for treatment. If you want the best chance to be successful in your investments, spend some time with a professional that has the financial expertise you need. Yes, your brother-in-law may have a head for stocks, but he likely doesn't have the credentials that a licensed financial advisor has.
Your money is currently resting in a low-interest savings account and you have no idea how to start investing. Here is where a financial advisor can shine, guiding you through the initial creation of a financial plan that suits both your income level and your personality. A financial advisor can also help you avoid making emotional decisions when looking to invest.
Access to resources. Financial advisors have access to a variety of tools and resources that help them perform their job better, in the process, providing you with the latest information on stocks and other investments that are not necessarily accessible to the general public. In addition, most financial advisors are part of a team, giving you accessibility to a wide variety of expertise when investing.
If you're still unsure, take a look at a hybrid model, which provides you with access to robo-advisors as well to a financial advisor if you have any questions. You can also start with a robo-investor and later move to a financial advisor as your investments grow or you have more income to invest. Either way, the financial advisor can play an important role in your wealth management. 
*This content is developed from sources believed to be providing accurate information. The information provided is not written or intended as tax or legal advice and may not be relied on for purposes of avoiding any Federal tax penalties. Individuals are encouraged to seek advice from their own tax or legal counsel. Individuals involved in the estate planning process should work with an estate planning team, including their own personal legal or tax counsel. Neither the information presented nor any opinion expressed constitutes a representation by us of a specific investment or the purchase or sale of any securities. Asset allocation and diversification do not ensure a profit or protect against loss in declining markets. This material was developed and produced by Advisor Websites to provide information on a topic that may be of interest. Copyright 2023 Advisor Websites.